During December of 1974, the People's Army of North Vietnam also known as (PAVN) commenced numerous attacks towards South Vietnam. Success was achieved against the Army of the Republic of Vietnam (ARVN), United states advisors envisaged that South Vietnam could endure at the very least up to 1976.
Instructed by General Van Tien Dung, PAVN troops rapidly became the dominating force during early 1975 while he instructed attacks on the Central Highlands of South Vietnam. These developments saw PAVN soldiers seize the urban centres of Hue and Da Nang during the 25th and 28th of March.
United States Considerations
With Hue and Da Nang at a loss, Intelligence officials in South Vietnam began to consider if the scenario might end up being recovered without any United states assistance. Becoming progressively anxious in relation to the well-being of Saigon, Gerald Ford the current United States President requested preparation for the extraction of United states troops.
United States Ambassador Graham Martin rathered all evacuations take place at a glacial pace in an effort hinder any panic, as opposed to the Department of Defence whom sought a relatively swift departure from Saigon. Eventually a compromise was agreed upon that saw all soldiers bar 1,250 withdrawn swiftly from the area.
Initiatives were established in order to extract the maximum number of friendly South Vietnamese refugees. Operation "Babylift" and "New Life" had been established during early April, air lifting out 2,000 orphans and then 110,000 refugees. During April United states citizens left Saigon (although somewhat unwillingly due to their locally made friends) via the Defence Attaché's Office located in Tan Son Nhut Air Base.
PAVN pushes forward
General Van Tien Dung had been given orders from the North Vietnamese Politburo On April the 8th to press assaults towards the South Vietnamese in what had become recognized as the "Ho Chi Minh Campaign," The general's soldiers met the very last line of ARVN resistance inside Xuan Loc the following day.
Operated primarily by the ARVN 18th Division, the location had been an essential crossroads northeast of Saigon. Holding Xuan Loc at all costs by South Vietnam as requested by President Nguyen Van Thieu, the severely outgunned 18th Division resisted PAVN assaults for roughly 14 days until submitting to defeat.
President Nguyen Van Thieu resigned Following the fall of Xuan Loc on April 2121 and denounced the United States with regard to failed military assistance. The overcome of Xuan Loc allowed PAVN troops to advance upon Saigon, encircling the city with close to 100,000 troops by the 27th of April, this same day PAVN rockets started hailing onto the city. On the 29th of April, rockets began to impair the usability of runways at Tan Son Nhut Air Base due to damages, It was then advised by General Homer Smith that evacuation attempts would be now purely helicopter based.
Because the initial evacuation strategy depended upon the use of planes, Ambassador Graham Martin required the embassy's Marine security guards to accompany him while viewing damage to the air base. Upon arrival Ambassador Graham Martin was forced to consent to General Homer Smith's evaluation.
Discovering PAVN troops had been advancing, Ambassador Graham Martin made contact with Secretary of State Henry Kissinger at 10:48 AM and asked for authorization in order to initialize the Frequent Wind evacuation strategy. This had been instantly approved and United states radio stations started playing "White Christmas" (originally written by Irving Berlin) on repeat, the signal for United states civilians to proceed promptly towards the evacuation points.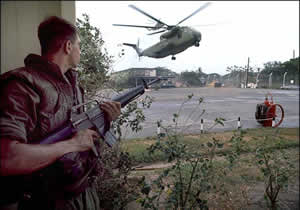 Because of runway damage, Operation Frequent Wind ended up being carried out with helicopters, primarily using the Sikorsky CH-53 Sea Stallion (a heavy-lift transportation helicopter) and the Boeing Vertol CH-46 Sea Knight (a medium-lift tandem rotor transportation helicopter), departing from the DAO Compound at Tan Son Nhut Air Base. Departing the air base they flew out to United states vessels located within the South China Sea.
During daytime, buses transported Us citizens as well as friendly South Vietnamese through Saigon and delivered them to the DAO compound. By night time in excess of 4,300 Us citizens had already been evacuated through Tan Son Nhat. Although the US Embassy was initially never designed as a significant departure point, it had indeed become one, when many Us citizens had become stranded at the Embassy and were joined by thousands of South Vietnamese with the intention of declaring refugee status.
As a result, departures from the embassy were on going throughout the day and well into the night. At 3:45 AM on April 30, the evacuation of refugees from the embassy was ceased as soon as Ambassador Graham Martin had been given immediate orders from President Gerald Ford to depart Saigon. The Ambassador boarded a helicopter that morning at 5:00 AM and was transported to the USS Blue Ridge (LCC-19) (the lead ship of the two Blue Ridge-class command ships of the U.S. Navy).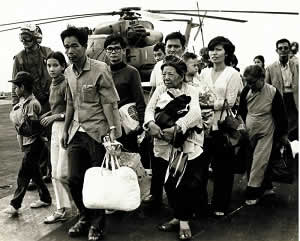 Although several hundred refugees still remained, the Us citizens within the embassy departed at 7:53 AM. While On-board the USS Blue Ridge, Ambassador Graham Martin frantically contended for helicopters to go back to the embassy however this was not agreed upon by President Gerald Ford. Although helicopters were knocked back, the Ambassador was able to convince the President to permit ships to stay offshore for a few days to serve as a safe haven for those still fleeing.
Operation Frequent Wind saw minimal resistance from PAVN, the outcome of the North Vietnamese Politburo ordering General Van Tien Dung to hold off any assaults since they considered disturbing the evacuation could produce an American intervention. Nevertheless the United states evacuation attempt had finished, South Vietnamese aircraft continued evacuating refugees to American ships. Because these aircraft had been unloaded, they were discarded into the sea in order to make room for fresh arrivals with Further refugees arriving at the fleet by ship.
The bombarding of Saigon
Bombarding Saigon commenced on April 29 with General Van Tien Dung attacking the following day. Led by the 324th Division, PAVN troops pressed into Saigon and swiftly captured crucial facilities as well as tactical points across the city. Struggling to defend against, President Duong Van Minh directed ARVN troops to admit defeat at 10:24 AM and attempted to peacefully hand over the city.
Turning a blind eye to President Duong Van Minh's peaceful defeat, General Van Tien Dung's troops acquired their victory as tanks rolled over the gates of the Independence Palace and went about hoisting the North Vietnamese flag at 11:30 AM. Colonel Bui Tin Entered the palace and found Minh and his cabinet waiting. When Minh explained how he wanted to transfer power, Colonel Bui Tin responded, "There is no question of your transferring power. Your power has crumbled. You cannot give up what you do not have.?? Thoroughly defeated, President Duong Van Minh declared at 3:30 PM that the South Vietnamese government had been now fully absorbed. Upon this announcement, the Vietnam War came to a close.